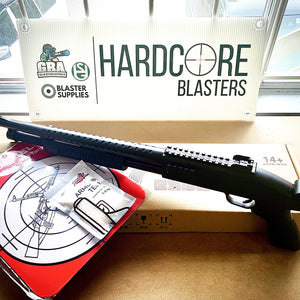 This is a toy gel blaster.
All Gel Blasters are shipped FOR FREE directly from Brisbane, with Australia Post, requiring a signature on delivery.
We only ship Gel Blasters to addresses located in the following Australian States/Territories: Queensland, South Australia. 
Always wear safety glasses and protective clothing when using your gel blaster. Transport your gel blaster in a bag while out in public.
M97 Shotty Combo Deal
$80 In Store
$90 Posted
Includes: M97, Colour Change Target, AT Gels
Features:
Mechanical, spring powered, pump-action
Full nylon construction
Hopper fed (internal hopper design)
Gel ball capacity: approx 20
Alloy barrel
Dust cover slides open with every pull back
Buffer tube compatible 
Integrated iron sights
FPS (Feet per second):
Approximately 270-290 FPS 

Effective Range:
20 to 25 Metres
Ammo Size:
7 – 8mm
This product ships directly to you from Brisbane. Shipping is free and fast. You'll receive an email with your tracking number once your item has been shipped, which you can track through Australia Post. You can expect to receive this item within 3-14 days from the day you place your order, depending on your location.
Every product listed on www.blastersupplies.com is recommended for ages 18+ and is being sold as a toy, and therefore when you purchase any product(s) from Blaster Supplies, you accept that Blaster Supplies does not imply or recommend use of any product for any application other than as a toy, for ages 18+.
Terms of Service: https://blastersupplies.com/policies/terms-of-service