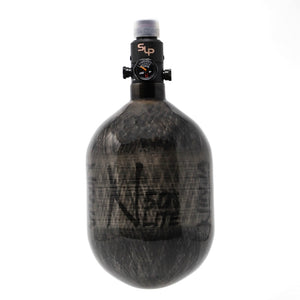 Black Ninja 50/4500 Carbon Fiber Air Tank including PRO V2 SLP Regulator
ONLINE ONLY - Posted from Melbourne supply 
Australian stamped and certified 
Meets all DOT, CGA and ASTM specifications
Made In The USA
All Ninja products are proudly manufactured in the USA.
The Ninja 50ci/4500 PSI Carbon Fiber HPA tank is a DOT approved carbon fiber tank mounted with one of Ninja's top of the line regulators.
Every Ninja regulator is ATSM compliant (Bonnet Thread/DOT Burst Disk/Restrictor, Bleed Hole, and Safety Groove) and are made right here in the U.S.A.
Ninja Regulators are hand crafted, factory tested and are known for the best performance in HPA.
This product includes the Ninja Pro V2 SLP Regulator which has a ball bearing design that replaces the depressing pin for more durability and better airflow.
The Pro V2 SLP output is fixed at 300psi.
The Pro V2 SLP can be rotated 360 degrees to ensure proper gauge and fill nipple orientation.
Ideal for the Polarstar, Wolverine, Redline, etc
Ninja SLP Regulator with Alloy Bonnet Pre-installed
Super Strong Carbon Fiber Construction
Low-Profile, Lightweight Design
5 year hydro date
Fully Made in USA
Ideal for HPA systems
Dual burst disks-HP and LP
ASTM Safety, DOT, and CGA Compliant
Low-Profile, light weight carbon fiber design
Strong Heavy duty Construction Alloy regulator
Adjustable output pressure with INCLUDED adjustment shims
Ball Valve style regulator design giving 30% improved air flow over pin valve designs
Terms of Service: https://blastersupplies.com/policies/terms-of-service