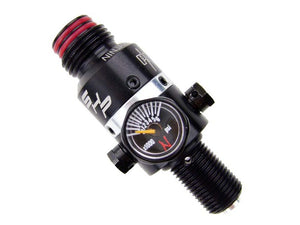 Ninja PRO V2 SLP Regulator 

All Ninja products are proudly manufactured in the USA.
The PRO V2 SLP is next generation SLP (Super Low Pressure) regulators. The PRO V2 SLP has a fixed output pressure of 300psi.
This regulator comes standard with a rotational collar to adjust the position of your fill nipple and gauge so you never have to worry about it digging into your wrists while shooting.

New Ball Valve Seal
30% Increased Flow
Improved Seal Integrity
Rotational 360 Degree
Made in USA
Terms of Service: https://blastersupplies.com/policies/terms-of-service