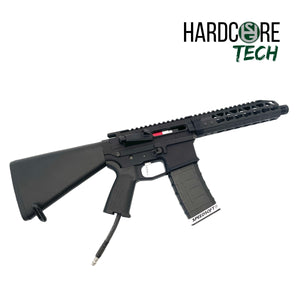 HPA CUSTOM BLASTER
HSGTECH007
When only the best will do!
This premium blaster utilises quality brands and sought after parts. 
Built by Lachlan (no longer doing blaster work outside our limited customs)
Warranty by Hardcore Blasters with any work done by Lachlan
Polarstar F2
HSG V2G CNC Gearbox
Retro Arms CNC Receiver
Retro Arms CNC Hand Guard
Retro Arms Fire Select
Retro Arms Bolt Catch
M16 Stock
GBU Speed Trigger
HSG Nozzle
HSG T Piece
HSG Hopup
7.4v Battery
(If required, Tank, Line, and Pack available separately)
 
If purchasing online, please select postage with insurance. 


If picking up in store, arrange a time so you can receive a full rundown and test shoot on the speedball field.
Terms of Service: https://blastersupplies.com/policies/terms-of-service